Team Building Barcelona
Barcelona : A wonderful destination for your team!
A vibrant culinary scene, stunning beauty, authentic culture and art, and a beachy vibe are some of the attributes used to describe the magical city of Barcelona. Just as there are endless ways to love and appreciate this Mediterranean jewel, there are also endless ways for companies to participate in team building activities. Because there are such a large variety of exhilarating activities, Barcelona is a fabulous destination for your team.
Check out our Sample Activities
Planning a trip for a large group is overwhelming, exhausting and stressful, especially if you aren´t familiar with Barcelona and everything it has to offer as a team building destination. Let the professional experts take over and plan the trip of a lifetime for you and your team. Professionals ensure every tiny detail is considered in the planning process as well as delivering a top-notch experience once you and your team arrive.
Incentive & Team Building Activities in Barcelona
Barcelona has a wonderful climate and a gorgeous coastline, perfect for outdoor activities. The terrain and geographical landscape are just as diverse as the colourful and vibrant gastronomy. As for art and culture, there are countless tours on just this alone, as this part of the world is rich in architecture, the arts, and its fascinating history. Whether it is experiencing the passion at Camp Nou, embarking on a journey of the taste buds, viewing the vivid masterpieces of Gaudi or cruising around on a catamaran, there is the perfect activity for you and your team. Lucky for you, Barcelona has travel professionals at your service, ready to iron out all of the details and logistics for your team building quest.
While what first comes to mind may be the classic tours that are very popular in Barcelona, there are also a catalogue of activities that may not be on your radar. Participating in culinary cooking classes, motoring around in luxury cars or having your team get active in stand-up paddle boarding are all examples of just a small scope of the adventures that await. Furthermore, you can even do a three-hour treasure hunt with your team in Barcelona. Can you imagine a better way for you and your team to bond than through the excitement of treasure hunting?
Perhaps observing this city from above is more your style? There are helicopter and hot air balloon activities for you as well. The abundance of offerings goes beyond what is mentioned here, but hopefully you are getting excited just picturing you and your team embarking on this adventure together.
Regardless of your group size, you are sure to find a team building experience that caters to your interests and is sure to create a feeling of shared adventure and connectivity with your team.
Hopefully at this point you are feeling less anxious about the prospect of planning a trip for a large group because now you realize, you don´t have to!
Feedback is not only vital for professional guides to perfect their craft and expertise, but for you to see how other companies and organizations have felt after their trips. Here is some feedback received from previous travellers:
"I would like to say: Thank you so much for perfectly organized tour in Barcelona for academy FC Rubin! Hope to work in the future with you!"
FC Rubin Kazan, Mr Ivan D.
"Once again, thank you very much for the whole organization and thecontacts for our shooting on a boat on such a short notice. Everything wentwonderful - despite not having the best weather we were able to do a greatshot. You were a huge help!"
Tresor TV Produktions GmbH - Tobias C.
"Good activities, fast response, good prices and flexibility were good, guides enthusiastic"
BNP Paribas - Tom K.
What are you waiting for? Time to explore all the offers available to you and start a conversation now with an expert.
To get some inspiration, here are our sample activities for team building events and incentives in Barcelona:
All you have to do is describe your needs and a professional will not only meet those needs, but exceed your expectations and leave you with lasting memories of beautiful Barcelona!
Contact Us & Get Quote with this form!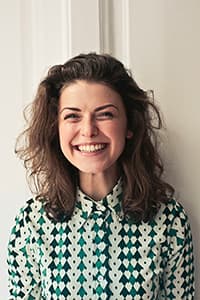 Hello, my name is Maite!
Our local team helps any small or large groups planning to come to Barcelona.
Please, use this form to tell us more about your request:
We'll contact you as soon as possible, Thank you!