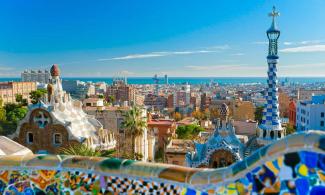 Barcelona Apartments
It's just like home, only better!
Vacation rentals in Barcelona
Welcome to Apartments Barcelona, your gateway to exceptional apartment rentals in the heart of this vibrant city. Immerse yourself in the rich culture, stunning architecture, and lively atmosphere that Barcelona offers. Our carefully curated collection of apartments provides the perfect home base for your Barcelona adventure. Whether you're seeking a cozy studio or a spacious penthouse, our selection ensures comfort, style, and a true local experience. Let us help you find the ideal apartment to create unforgettable memories in this captivating Mediterranean destination.
Summary
Best value for money
A small selection of top-rated apartments
Discover Barcelona's top-rated apartments, where luxury meets convenience. From stunning penthouses with panoramic views to charming apartments in historic neighborhoods, our handpicked selection offers stylish design and modern amenities. Experience the pinnacle of comfort in Barcelona's finest accommodations.
Selection by price
Cheap apartments in Barcelona
Discover affordable apartments in Barcelona without compromising on comfort. Experience cozy accommodations in prime locations, ideal for budget-conscious travelers seeking a memorable stay in the city.
City center
Midtown apartments Barcelona
Discover Barcelona's midtown apartments, combining convenience and charm in prime locations. Immerse yourself in the vibrant energy of the city while enjoying stylish and comfortable accommodations.
Selection
Las Ramblas apartments in Barcelona
Discover Las Ramblas apartments, the perfect blend of convenience and excitement in the heart of Barcelona. Immerse yourself in the vibrant atmosphere and iconic landmarks just steps away from your stylish accommodations.
By the sea
Beach Apartments Barcelona
Experience Barcelona's beachside bliss with our apartments by the sea. Immerse yourself in sun-kissed days, sandy shores, and breathtaking coastal views. Indulge in stylish comfort as you create unforgettable beach memories in Barcelona.
Aparthotels
Best aparthotels in Barcelona
Discover Barcelona's top-rated aparthotels, combining the comforts of home with the convenience of hotel services. Enjoy spacious suites, on-site amenities, and personalized service for an exceptional stay in the heart of the city.
Exclusivity
About our Barcelona.com Score
Our selection of hotels in Barcelona and Catalonia are ranked using the work of a dedicated artificial intelligence, combined with our exclusive knowledge of the local hotel stock. This artificial intelligence analyzes data collected from the Internet and various social networks such as traveler reviews, availability confirmed by our partners, prices, booking popularity, location and personal preferences of users. The final average displayed is exclusive to Barcelona.com, Inc.
About Barcelona.com hotel reservations
Since 1996 Barcelona.com has specialized in hotel reservations in Barcelona and Catalonia, Spain. We help and advise you to find the most suitable hotel for your stay in the Catalan capital. Our choice of accommodation is based on our knowledge of the city and your comments and experiences. Barcelona.com is also a guide to visiting Barcelona. We also offer you all the entrance tickets for all the museums and monuments of the city. We answer all your questions, so don't hesitate to ask for our advice!