Parking your car in Barcelona
Parking in Barcelona, Spain can be a challenge due to the lack of parking space in some parts of the city, the many parking restrictions and since 2022 traffic restrictions in the city centre with LEZ, the low emission zone called here - ZBE.
Here are some tips to help you park more easily in Barcelona:
Use public car parks: Barcelona has many paid public car parks throughout the city. It is usually easier to park in these car parks than to look for parking on the street. You can use apps or websites to find public car parks near your destination, and check parking rates and opening hours.
Avoid restricted parking areas: Some parts of Barcelona, especially the city centre, have parking restrictions due to restricted parking areas (blue or green zones) reserved for residents or authorised vehicles. It is advisable to avoid seeking parking in these areas unless you are eligible to park there. Check the signs and markings to ensure that you are parking in an authorised area.
Use paid car parks: Barcelona has many underground pay car parks throughout the city. They can be a convenient option for parking, as they generally offer more spaces than surface car parks, although the rates can be higher. Look for underground car parks near your destination and check rates and opening hours.
Use public transport: Barcelona has an excellent public transport network, including the metro, buses and trams, which can be used to get around the city without having to worry about parking. You can park your car in a remote car park outside the city centre and use public transport to get to your destination.
Be aware of parking times: Paid parking times in Barcelona can vary depending on the area and the day of the week. Be sure to check the signs for permitted parking times and rates to avoid parking fines.
Use parking apps: There are several parking apps in Barcelona that can help you find available parking spaces and pay parking fees remotely. These apps can save you time and help you find parking spaces more easilybut they are more convenient for Catalans than for visiting foreigners.
Easy Barcelona parking: Our top tip
As you can see, the best way to park your car in Barcelona is to use the paid car parks and to book your car park in advance. This solution is not free, far from it, but parking your car in Barcelona has a cost in the whole city, as in many other capitals.
Our partner offers you more than 260 car parks, located in all areas of the city. Simply book online!
Discounted parkings by points of interest in Barcelona
Which are the different zones for parking on the street?
In Barcelona, on-street parking zones are generally indicated by road markings and signs. Here is an overview of the main on-street parking zones in Barcelona:
Blue Zone (Zona Blava): These are paid on-street parking zones, usually limited to a maximum of 2 hours. You must buy a parking ticket from the meters located in the zone and place it on your dashboard to indicate the start time of your parking. Rates and operating hours may vary depending on the zone and the day of the week.
Green Zone (Zona Verda): These are parking zones reserved for Barcelona residents who have a residential parking permit. Non-residents are generally not allowed to park in these zones, except during the specified hours indicated on the signs.
Yellow Zone (Zona Groga): These are parking areas for authorised vehicles only, such as delivery vehicles, emergency vehicles, taxis and public transport vehicles. Non-authorised vehicles are not allowed to park in these areas during the specified times indicated on the signs.
Loading and unloading zone (Zona de Càrrega i Descàrrega): These are parking areas reserved for vehicles loading and unloading goods. Vehicles other than loading and unloading vehicles are not allowed to park in these areas during the specified times indicated on the signs.
Final tips: It is important to note, for example, that parking rules and times may vary by area and day of the week, so it is essential to check local signs to ensure that you are complying with the current parking regulations. Also remember the new EPZ traffic rules before you head into the city centre; generally Monday to Friday nights are regulated.
How does booking a parking space in Barcelona online work?
Here's how buying your parking space, arriving at the car park and ending your parking works:
Parking search and selection: You can search and select a car park online using our parking reservation platform. You can choose according to location, price, opening hours, services offered, etc.
Reservation: Once you have chosen a car park, you can proceed with the online reservation. You can select the date and time of arrival, as well as the desired parking duration.
Payment: You will need to provide the necessary payment information to purchase the parking ticket online. This will include your credit card details or other accepted payment options.
Confirmation: Once you have made payment you will usually receive a booking confirmation by email with details of your booking, including instructions on how to access the car park.
Arrival at the car park: On the day of your booking you will arrive at the car park at the agreed time. Some car parks may have a number plate recognition system or QR code to access the car park, while others may require you to present your booking confirmation at the entrance.
Parking: Once inside the car park, you can park in the reserved space if you have booked a specific space, or in an available space if you have booked a time slot. Make sure you follow the rules and regulations of the car park regarding parking times, tariffs, etc.
Departure: When you are ready to leave the car park, you can leave by following the car park's indications and rules. Your space is already paid for, present the QR code or the recognition of your number plate is enough to open the barrier.
We Recommend >> Must-sees in Barcelona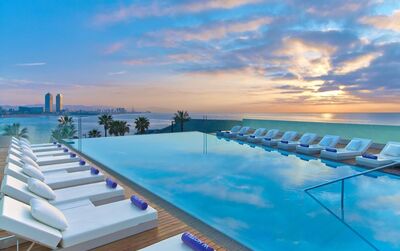 The ideal hotel for your stay
Whether you are looking for a family or a business stay or just for a weekend, we have selected for you the best hotels in the city to choose from. All categories at all prices. But also the bargains according to your travel dates. Have a good stay!
Best City Tour: One single ticket, 3 routes and 45 stops!
Discover city sightseeing at your own pace with our selection of Hop-On Hop-Off bus tour tickets. An extraordinary and economic way to make the first connection with main tourist attractions.
Unlimited access to public transport
Enjoy unlimited access from 48 to 120 hours to Barcelona's public transport: Metro, bus (TMB), urban railway (FGC, Zone 1), Montjuïc funicular, tram (TRAM), regional railway (Rodalies de Cataluny) + 1 round trip from the airport to the city center. Only excluding NitBus, Aerobus & hop-on hop-off.
Your comment has been recorded and will be published after moderation.
Close