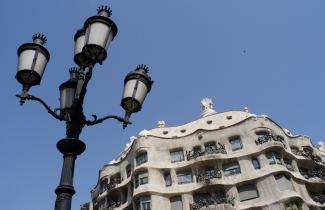 Hotels in Barcelona City Centre
Guide and handpicked selection of Hotels in Barcelona Spain City Centre
Guide to the best hotels in Barcelona's city centre
When we talk about the centre of Barcelona we are actually talking about all the districts around La Rambla or Las Ramblas, that long avenue that crosses the city from the sea. It is the historical heart of Barcelona. Downtown Barcelona is called Ciutat Vella. It is the old town and its districts such as the Eixample, El Raval, El Born, El Gótico (Gothic quarter) and the Barceloneta. In this town, residing in the centre offers many advantages for a tourist such as being able to discover almost all the attractions by foot. For us it is the ideal area to be during vacation in Barcelona. And you will see that even if you are very demanding on the quality and categories of hotels, there is no shortage of low prices!
Our quick guide to the best hotels in Barcelona's city centre to help you book the most attractive hotel for your holiday:
Summary
Best 4-star Hotels in Barcelona City Center
These are 4-star luxury hotels Barcelona city centre that we deeply recommend. We guarantee you will be totally satisfied if staying at any of these 4-star hotels. Among the facilities: swimming pool, spa, rooftop terrace with breathtaking views of the city, multiple restaurants and bars. And of course a faultless service for the best possible experience. 
Our selection
3-star Barcelona Hotels near City Centre
On a lower budget, we have chosen the following 3-star hotels for our special recommendations. We know you will enjoy the quality of these best cheap hotels in Barcelona city centre.
Selection
Hotels with a pool in the City Center
Escape the bustling city and relax in style with our selection of hotels featuring rooftop swimming pools located in the heart of Barcelona. Enjoy stunning panoramic views of the city while taking a refreshing dip or lounging in the sun. Book now for a luxurious and unforgettable stay in the center of Barcelona.
What are the advantages of staying in Barcelona's city centre?
Barcelona is a very wide city, but the most popular tourist areas are located - fortunately - in the centre of the Catalan capital. A relatively small centre when you imagine that a radius of one kilometre around the Plaça de Catalunya allows you to visit the whole old town and monuments such as Casa Batlló , Casa Milà - Pedrera, Picasso Museum and many others.
Staying in this central area offers the advantage of:
To discover the main historic districts short walk and therefore many monuments and museums listed in the map at the bottom of the page.
To be next to the metro station and bus network to easily visit the other parts of the city.
To easily find the stops of the three lines of the tourist bus which is another great way to visit the city.
To be at the point of departure and arrival of the AEROBÚS shuttle bus that connects Barcelona's El Prat Airport with Barcelona's centre every 5 minutes, 365 days a year, in about 35 minutes.
To be a few minutes walk to the most beautiful shops of the famous Passeig de Gràcia as well as close to El Born and its small shops of young trendy designers. Great for all-around shopping.
To enjoy a drink at the Boqueria Market or to discover hundreds of tapas bars or restaurants of all types and of course the many nightlife activities...  
The nearest beach is not very far either. When you are told that a hotel in Barcelona center is the best for you to simply enjoy this city to the utmost without wasting time!
The only disadvantages of residing in the centre of Barcelona are mainly due to the distance from some of the city's iconic monuments. Always using the Plaza de Catalunya as a starting point:
Antoni Gaudí's Sagrada Família is located 2.6km away.
Antoni Gaudí's Güell Park is far away: 4km.
Camp Nou, The FC Barcelona stadium is 4km away.
Allow 30 minutes of public transport or bicycle and 20 minutes by taxi for these 3 journeys.
Our tips
Tips to find cheap Hotels near Barcelona City Centre
Hotel prices are very fluctuating in Barcelona. The price of the same room can double or even triple depending on the season and the events taking place in the city. It takes some method to look for good deals, discounts and ultimately enjoy an economic stay in a city that now offers overnight stays at the rates of all other major Spanish and European cities, ie too expensive for us.
Hotels in the centre of Barcelona are very popular. That's normal, that's where the city's main attractions are located. However, finding accommodation is not a challenge, you just have to follow these few tips:
Take advantage of the discounts that hotels inevitably offer. Hotels keepers in Barcelona are constantly competing for the best offers to sell their rooms. A competition that is favourable to tourists. The reservation site that we propose displays, very clearly and in real-time, the discounts offered by hotels: take advantage of them!
Once your stay date has been indicated, use the column on the left to tick the two selections "Barcelona Centre" and "All offers". An "opportunity of the day" button will then appear in orange, i.e. the hotels offering an exceptional quality/price ratio for the dates you have chosen. The "Privilege Offer" button is also displayed for hotels that offer discounts of up to 50%. When we tell you that competition is good!
 Book a Barcelona city centre hotel either well in advance of your stay or at the last minute!
 To find the best price, there are two strategies.
Either book your room well in advance of your trip: 3 months before your stay is the right time to take advantage of substantial discounts. Hoteliers want to fill their hotels in advance. They are then at the right price for their category and their neighbourhood.
However, a last-minute reservation is also a good trick. In this case, the hotelier's race to sell their last rooms. Prices are revised downwards. It's riskier for you but nothing beats a short stay in the Catalan capital on a whim and a little luck!
 
In this case, indicate your date and number of nights of stay then tick in the left column "Barcelona Centre" and "Lowest rate first" above the list of hotels.
It is not rare to find 1-star hotels at less than 50€ per night and 4-star hotels well below 100€ per room in high season.
Are you looking for a Barcelona center hotel but want to know the difference between Hotel, Hostel, Hostal and Youth Hostel?
There are several types of accommodation in Barcelona.
The most structured are hotels. They meet European standards, classified according to their service category and room size. There are 5 categories ranging from 1-star hotels to 5-star hotels (formerly Palace). The most starry have suites, luxury and prestige rooms, sports halls, massage, wellness, solarium, terrace with swimming pool, restaurants, bars, service and reception 24/24…
The "not classified" category is more confusing and requires a little explanation.
Hostals are found in those categories. A hostal in Barcelona is an establishment offering the same services as a hotel without having the name. From a lower category, it offers rooms smaller than one star, each room is private and the cleaning service is also daily. It is often a good deal, its prices being very affordable.
Finally, a hostel in Barcelona is actually a youth hostel. Here the rooms are not private, they are rather beds in dormitories or in collective rooms. Some hostels offer private rooms but this is not the general rule. It is therefore not advisable to confuse hostal and hostel. Youth hostels are often very friendly and lively in Barcelona. Meeting places are more and more in the air of the time and decorated with taste. An excellent solution for stays at reasonable costs especially for young travellers and backpackers. 
Youth hostel prices in Barcelona Centre.
Youth hostels are the most economical way to stay in Barcelona.
Count between 25 and 35€ per night per person in July in a youth hostel in the historic districts of the city.
A price which falls to about fifteen euros in November for example.
Tips
Hotel Prices in Barcelona Centre

From 1 to 5 stars the prices are very varied. If the former offer rooms for less than 40 euros per night, prices rise as quickly as the stars.
A 3-star hotel will be between 150 and 200 euros in the middle of July
A 4 stars in the city center of Barcelona in July between 180 and 300 €.
Hotel Barcelona City Centre: More tips!
Watch out for big events in the city!
Barcelona is a city of congresses and trade fairs. Some of them fill the city and empty the hotels. Room prices skyrocket. For this reason alone, it is not advisable to come there for tourism at the same time. The best-known fair is "The Mobile World Congress", at the end of February each year. To be avoided at all costs. To choose your date of stay according to these events: The calendar of the main trade fairs in this page.
Preferably breakfast included
Prefer hotels that offer rooms that include breakfast. When this is not the case, the hotels do not fail to make you pay for this service at a high price. Rarely less than fifteen euros: it is often good but indigestible! Our advice if breakfast is not included in the room price: go to the local café - preferably frequented by Catalans, have a coffee and a "bocadillo de jamon" the local croissant for 4 or 5 euros all included!
Parking possible
Attention it is complicated and very expensive to park a car in the city centre of Barcelona, or even impossible in the historic district. The parking lot in Barcelona is a real rip-off. If you come by car, you must choose a hotel that has a car park or an agreement with a car park nearby included in the price of the room. Another tip is to book your car park in advance with our online car park reservation service, the prices are cheaper than once on site because they too prefer to fill their car parks in advance. Count about twenty euros per 24 hours in the center.
Prefer the fewer tourist seasons.
As everywhere in Spain, the occupancy rate of Barcelona hotels depends on holiday dates. The most interesting months to stay at low prices in the center as everywhere in town are the months of November, January, and early February. In this case no beach but a cultural, gastronomic, and always festive stay. December is a fake friend, the city is very appreciated for the holidays: Christmas and New Year's Day. It is mild in winter in Catalonia, in our Barcelona Weather page a table of average annual temperatures will convince you!
Visit Barcelona in August!
Catalans are like everyone else, they abandon their city in August because it can get very hot in this month of summer holidays. The city is deserted, many shops close, some restaurants also but all cultural attractions remain open. It's our favorite month, it's all a little off. Hotels know this and play the card of massive discounts to convince you to come. Don't hesitate either!
Map of Barcelona city centre hotels and main points of interest.
A hotel in the centre of Barcelona allows you to visit all these monuments on foot:
As you can see on this map the places to visit are countless. Picasso Museum, Music Palace, Güell Palace, Macba, Casa Milà - Pedrera, Casa Batlló, Barcelona Cathedral. A magical district where it is necessary above all to stroll to discover the soul of the city, its alleys, its markets as that of la Boqueria, its tapas bars, its shops and a few minutes on foot its beaches! Have a nice stay!
Exclusivity
About our Barcelona.com Score
Our selection of hotels in Barcelona and Catalonia are ranked using the work of a dedicated artificial intelligence, combined with our exclusive knowledge of the local hotel stock. This artificial intelligence analyzes data collected from the Internet and various social networks such as traveler reviews, availability confirmed by our partners, prices, booking popularity, location and personal preferences of users. The final average displayed is exclusive to Barcelona.com, Inc.
About Barcelona.com hotel reservations
Since 1996 Barcelona.com has specialized in hotel reservations in Barcelona and Catalonia, Spain. We help and advise you to find the most suitable hotel for your stay in the Catalan capital. Our choice of accommodation is based on our knowledge of the city and your comments and experiences. Barcelona.com is also a guide to visiting Barcelona. We also offer you all the entrance tickets for all the museums and monuments of the city. We answer all your questions, so don't hesitate to ask for our advice!