Best Hotels in Barcelona
Our handpicked selection of Best Hotels to Stay in Barcelona Spain
handmade selection
We help you book only the best!
There is a great turnout in Barcelona! Every month new outstanding hotels open. Fierce competition has driven quality upwards, forcing the oldest establishments to undergo drastic restoration. New decorations, designer objects, trendy bars and restaurants, fitness centres, delicious rooftop terraces, impeccable services and staff now place Barcelona at the top of the European hotel industry with an exceptional price-quality ratio. Some hotels make even more effort and show even more imagination in serving their guests. 
Summary
5-star
Best Hotels in Barcelona : Luxury and delight
There are more than 38 5-star hotels in Barcelona. In this category of hotels, the highest, we are close to perfection: beauty of the place, comfort and perfect quality of services. However, we have chosen for this selection of the best 5 star hotels in Barcelona Spain only those that have the fabric of the old "Palaces" or those that have that little extra that will delight you during your stay: perfectly located in the city centre, views of the city, atmosphere, starred restaurants, great room comfort, design, roof terraces and even a swimming pool for some... Do not hesitate!
4 stars
Recommended 4 stars
Our choice here is only for hotels located in the city centre to make it easier to discover Barcelona on foot. We also wanted to show you that in Barcelona the 4 stars can be of an absolutely surprising quality/price ratio considering the general facture of these places: superbly well decorated; animated in the evening, sunny on their terraces... A guaranteed dream!
3-star hotels
Best 3 star Hotels in Barcelona
Be aware that the 3 stars can also be surprising in Barcelona. This category is of increasing interest to more and more travellers. The competition once again pushes hoteliers to surpass themselves to amaze you with magnificent decorations, services and events at the level of the greatest... This selection proves it with hotels located in the centre, nicely decorated and supervised by teams who will also be at their most attentive for you.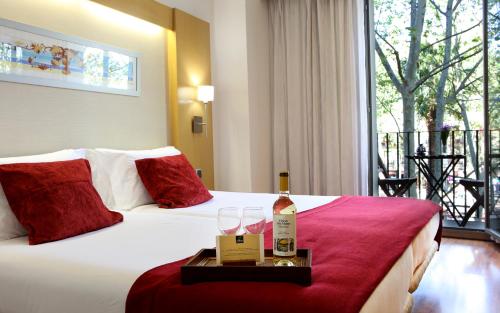 I had a great stay at Abba Rambla Hotel! The location near public transportation and the Rambla was perfect. I was able to easily walk to the port area and beyond.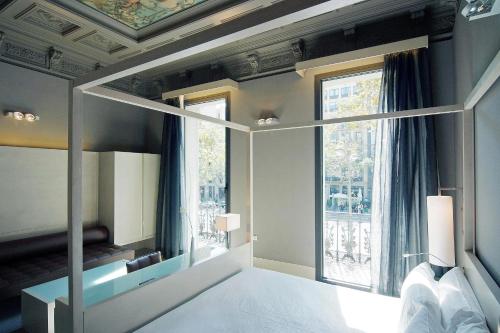 The Hotel Actual was an outstanding choice of accommodation during my visit to this great city.
By Dan ( United Kingdom ) - May 2022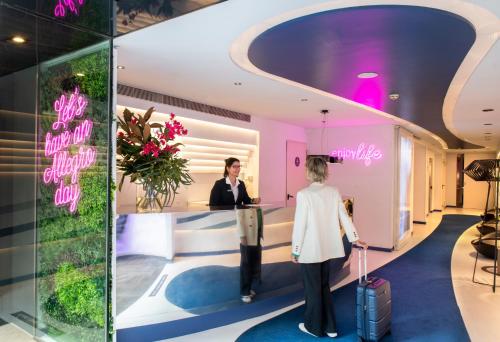 We stayed at Room Mate Emma for a few days and had a great experience. The location is prime and the prices are fair.
For families
Best Family Hotels in Barcelona
Perhaps the range of hotels that has made the most effort in recent years. They are very suitable for families who prefer the beauty without compromising their holiday budget. From the decoration to the kindness of the reception, these " little hotels " by the price, now have everything to please and make your stay in Barcelona very pleasant!
With Parking
Best hotels with Parking
If you come to Barcelona by car, here is our advice: leave your car in the parking lot and take public transportation or a cab. Here is a selection of hotels with parking (additional fees).
Exclusivity
About our Barcelona.com Score
Our selection of hotels in Barcelona and Catalonia are ranked using the work of a dedicated artificial intelligence, combined with our exclusive knowledge of the local hotel stock. This artificial intelligence analyzes data collected from the Internet and various social networks such as traveler reviews, availability confirmed by our partners, prices, booking popularity, location and personal preferences of users. The final average displayed is exclusive to Barcelona.com, Inc.
About Barcelona.com hotel reservations
Since 1996 Barcelona.com has specialized in hotel reservations in Barcelona and Catalonia, Spain. We help and advise you to find the most suitable hotel for your stay in the Catalan capital. Our choice of accommodation is based on our knowledge of the city and your comments and experiences. Barcelona.com is also a guide to visiting Barcelona. We also offer you all the entrance tickets for all the museums and monuments of the city. We answer all your questions, so don't hesitate to ask for our advice!