Notice to travellers coming to Barcelona
LATEST NEWS - 13/04/2021
Barcelona is not confined (there is any quarantine for travelers) but strict sanitary rules are still in force with a curfew from 10 pm to 6 am throughout Catalonia until further notice.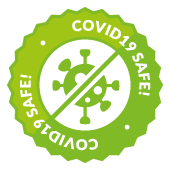 Practically all the tourist monuments are open in Barcelona. Standards of distances have been established to comply with the health rules "Covid Safe".
They are indicated on our website by a logo "Covid Safe" on all monuments concerned.
As for buying tickets in Barcelona.com :
If you cannot select the date chosen it means that the ticket in question is not available for the reasons mentioned above.
Regarding the refund of tickets previously purchased:
If it is a ticket to attend an FC Barcelona match at Camp Nou Stadium: please download the pdf file and then contact our services specifying your reference number. (Make sure that the ticket was purchased on the Barcelona.com website and your reference number begins with "BCOM...")
If it is a ticket to visit a monument or a service related to tourism:
As this situation was unexpected we are now gathering all the information we need from our partners to give you the service you deserve.
Because of the large number of requests we receive for refunds we had to stop answering your email to be able to focus on doing the right thing regarding cancellations. Therefore we will get back to you regarding refunds in the coming weeks. Since a lot of offices from museums/attractions are empty right now this takes longer than usual.
We highly appreciate your understanding and patience in these uncertain times and we are working hard to make sure we overcome this.
If you have other questions, please contact our services at the following email address: ticketing@barcelona.com with your reference number.
For any other information, please use our contact page.
Thank you and we hope to see you soon in Barcelona!
#keepsafe
The Barcelona.com team