Local car rental in Barcelona
Find local car rental dealers
Barcelona Car Rental
Find local car rental dealers in Barcelona and book directly with them..
How to Rent a Car in Barcelona
If you're searching for great rates and excellent service in Spain, Barcelona.com offers them to you. We strive to meet your needs with our price match department and excellent customer service, to ensure that you are more than satisfied with your car rental in Barcelona. You can book a car rental in Barcelona online.
Requirements
To rent a car, you must be at least 18 years old (age may vary by car category) and have held your license for 1 year. Drivers under the age of 25 may incur a young driver surcharge. Seatbelts are mandatory. Child seats are mandatory for children of less 105cms tall and children under 12 may not sit in the front seat. An International Driver's License is highly recommended.
To rent a car if you are a European citizen you only need three things: a payment card, your ID and your driving licence. And to book your rental car, simply enter your travel dates on the above search engine and compare all available offers at a glance. On the day of your rental you will have to bring your reservation receipt and your documents to the counter. And if you are a foreigner or any of your documents will expire, check this page for your particular conditions.
Speed Limits
Speed limits in Spain are as follows: City 31mph/50kph Open Roads 55mph/90kph Highways 74mph/120kph.
Failure to comply with these rules is classified as a serious or very serious infringement, punishable by fines of between 100 and 600 euros.
Rules of the Road
Traffic travels on the right and if a car approaches you and signals an intention to pass, you must turn on your right directional to signal that the road ahead is clear.
Gas / Diesel
Gas stations are open from 8am to 8pm with some stations in major cities and on the highway open 24 hours. The average price for a litter of unleaded fuel is 1.40 Euro.
Tolls
Spain's expressways, the ''autopistas,'' are toll roads and are identified by the letter A.
For example, going from Barcelona to La Jonquera costs 11.40€ … that is 0.10 cents per kilometer.
Parking
''Blue zone'' parking exists in Spanish cities. Marked by the sign, ''Zona Azul,'' you may park for 2 hours. There are 4 different rates for the blue zone, depending on the demand of the zone. The most expensive is the Eixample and Ciutat Vella (A), where you can park for a maximum of 2 hours, at the price of 2.5€ per hour. The B, C and D vary from 2 to 4 hours of time and 2,25€ at 1,08€ per hour.
We recommend if staying some days in Barcelona to book your parking ahead of time, and obtain discount prices for periods of 24 or hours.
We Recommend >> Must-sees in Barcelona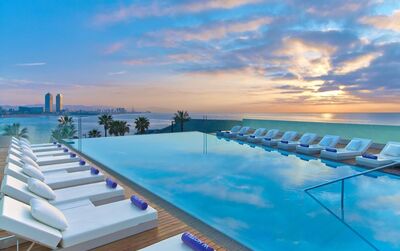 The ideal hotel for your stay
Whether you are looking for a family or a business stay or just for a weekend, we have selected for you the best hotels in the city to choose from. All categories at all prices. But also the bargains according to your travel dates. Have a good stay!
Best City Tour: One single ticket, 3 routes and 45 stops!
Discover city sightseeing at your own pace with our selection of Hop-On Hop-Off bus tour tickets. An extraordinary and economic way to make the first connection with main tourist attractions.
Unlimited access to public transport
Enjoy unlimited access from 48 to 120 hours to Barcelona's public transport: Metro, bus (TMB), urban railway (FGC, Zone 1), Montjuïc funicular, tram (TRAM), regional railway (Rodalies de Cataluny) + 1 round trip from the airport to the city center. Only excluding NitBus, Aerobus & hop-on hop-off.
Your comment has been recorded and will be published after moderation.
Close