Park Güell ticket > Skip the line!
Park Güell ticket > Skip the line!
Portico of the Washerwoman
On the eastern side of the Nature Square and its serpentine bench is an original iron gateway that leads to the former gardens of the Casa Larrard. A path or portico crosses a grove of pines in the form of a large wave made of inclined columns, with a double column acting as a buttress. A very good example of the organic architecture advocated by Gaudí. This path is sweetly named the Washerwoman's Portico.
The origin of the name Portico of the Washerwoman
The viaduct is made up of many columns to support it. These columns were made by different artists so that no two are alike. One of them is more remarkable than the others because it represents a woman carrying a weight on her head. It is this column that gives the name to the Portico of the Washerwoman.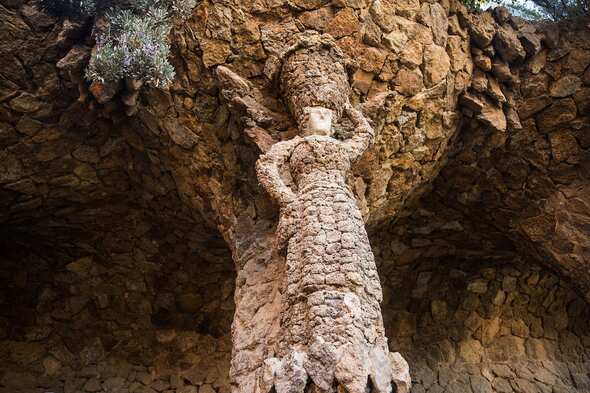 What does the Washerwoman carry on her head?
The accepted version, which finally gives the place its name, is that she carries linen and clothes to be washed on her head to transport them more easily. So she is obviously a washerwoman.
But with Gaudi and his Park Güell nothing is simple or obvious. Another hypothesis suggests an imitation of an Egyptian statuette on display in the Louvre Museum entitled "The Offering Bearer" (Asyut, Egypt).
You can also propose your own hypothesis on this page.
In all, this portal is 83 m long. Do not hesitate to take time to discover it, the surprising details only appear with a fine observation or a lot of imagination.
Salvador Dalí saw at the entrance to the portico an iron door in the shape of "ox livers", according to one of his famous formulas.