Roman Amphitheatre Tarragona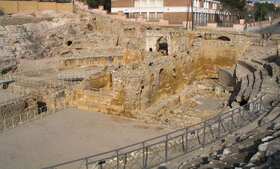 The Roman Amphitheatre of Tarragona is located at the end of "Rambla Vella" and the "Pg. de les Palmeres", the Amphitheatre is dated from the II. BC The whole place is got capacity for 13.000 spectators; they have been reconstructed to its original state. This was the place for the gladiators and for the hunt of wild animals. This was also the place were the sentenced were finally executed.
Over its foundations were built a Visigoth basilica (VI) and then a Roman church (XII).
In its interior one can still admire the remains of the church of "Sta. María del Miracle".
Open air monument.
Roman Amphitheatre Tarragona

Address : Parc del Miracle s/n.
City : Tarragona - Spain
Area : Beyond Barcelona
Opening hours : Open from Tuesday to Saturday from 9 to 21h. Saturdays and holidays from 9 to 15h. Closed on Mondays.
Phone : 977 24 19 52

Your comments : Roman Amphitheatre
Hotels in Barcelona

Find best hotels in Barcelona: accommodation in City Centre & Ramblas, selection of recommended hotels or discover best hotels by the sea front!
Vacation Apartments Barcelona

Looking for a cheaper and more familiar way to stay in Barcelona?
We have a whole range of apartments for rent from 3 days.
Rent a Car

We have selected for you the best car rental companies at the best prices.