Markets in Barcelona
Best Markets in Barcelona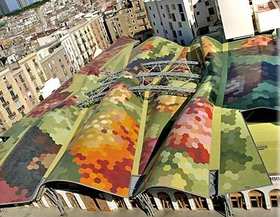 Do like Catalans, make your daily shopping in the city markets (Mercat in Catalan) or simply, visit them and have a drink, have a few tapas, meet friends…
Barcelona city markets are popular places, colorful and noisy, refreshing and happy. From food markets to fleas or books markets this is our selection for a delightful moment during your stay in Barcelona.
To know:
Opening times: most of the shops and shopping centers are open from 10.00 (10am) to 20.30 (8:30pm) or 21.30 hours (9:30pm). Traditional shops open from 10.00 (10am) to 14.00 hours (2pm) and from 16.30(4:30pm) to 20.30 hours (8:30pm)
Sales: the winter sales generally begin in the second week of January and last until the end of February and the summer sales begin on 1st July and last until the end of August.
How to pay: most people pay in cash or with a credit card, when you must show your passport or identity card.
Tax Free: residents from outside the European Union may have their Value Added Tax (VAT) returned for purchases of more than €90.15.
See also all the shops of Barcelona in our directory.
Your comments : Barcelona Markets
Hotels in Barcelona

Find best hotels in Barcelona: accommodation in City Centre & Ramblas, selection of recommended hotels or discover best hotels by the sea front!
Vacation Apartments Barcelona

Looking for a cheaper and more familiar way to stay in Barcelona?
We have a whole range of apartments for rent from 3 days.
Rent a Car

We have selected for you the best car rental companies at the best prices.