Barcelona Magic Fountain of Montjuïc
Magic Fountain of Montjuïc - Water, light and color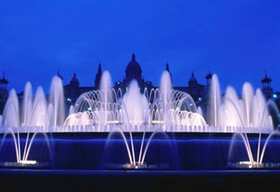 The Magic Fountain of Montjuïc first spouted on 19 May 1929 during the Great Universal Exhibition and continues to delight visitors to Barcelona today.
The fountain delivers a spectacular display of colour, light and water acrobatics with musical accompaniment every Thursday to Sunday in the summer months and every Friday and Saturday during winter.
History
When work on the Great Universal Exhibition of 1929 was well under way, the organizers felt that it needed that "something" special to make it a cut above the rest. That was when Carles Buigas submitted his project for a "colossal, daring and costly piece of work".
Buigas's project heralded the discovery of a new art, the art of light. Light would no longer be used only to illuminate the night, but rather to embellish it too.
The Magic Fountain in numbers:
Pool dimensions: 50 x 65 m.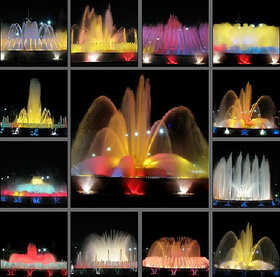 Basin diameter. Top: 12. Intermediate: 35 m.
Pool capacity: 3,100,000 liters (Current: 2,950,000 liters)
Number of pumps: 5
Pump output: 4x 265 hp + 1 x 125 hp
Total volume of water in circulation: 2,600 liters per second
Maximum pressure: 5.4 kg/cm2, equivalent to 54 m maximum water height
Number of water jets: 3,620
Number of water arrangements: 29
Number of hydraulic valves: 109
Number of main colors: 8
Different combinations of water-light: C(29.3) + C(29.4) + C(29.5) x CR(8.6) x CR (7.2) >> 7,000 million
Number of electric motors: 134
Output of electric motors: 1,567 hp (1,153 Kw)
Number of lights: 4,760
Illumination power: 1,507 Kw. (Current: 995 Kw)
Sound equipment power: 7,500 w RMS
Approximate length of water pipes: 1.5 Km.
Approximate length of compressed air pipes: 6 Km.
Approximate length of electric cables: 355 Km.
Date opened: May 19, 1929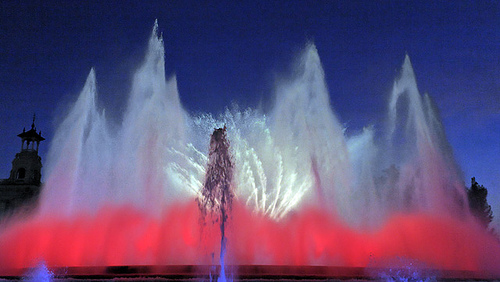 Winter: (October to April)*
Fridays and Saturdays from 7:00 pm to 9:00 pm
Music sessions: 7:00 PM 7:30 PM 8:00 PM 8:30 PM *Note: Annual technical shutdown by a period of 1,5 months
Summer: (May to September)
Thursday, Friday, Saturday and Sunday from 9:00 pm to 11:30 pm
Music Sessions: 9:30 PM 10:00 PM 10:30 PM 11:00 PM
Video:
Barcelona Magic Fountain of Montjuïc

Address : Pl Carles Buïgas, 1
City : Barcelona - Spain
Area : Sants / Montjuïc
Opening hours : Winter: (October to April): 7:00 PM 7:30 PM 8:00 PM 8:30 PM / Summer: (May to September) 9:30 PM 10:00 PM 10:30 PM 11:00 PM
Prices : Free
Your comments : Magic Fountain
Hotels in Barcelona

Find best hotels in Barcelona: accommodation in City Centre & Ramblas, selection of recommended hotels or discover best hotels by the sea front!
Vacation Apartments Barcelona

Looking for a cheaper and more familiar way to stay in Barcelona?
We have a whole range of apartments for rent from 3 days.
Rent a Car

We have selected for you the best car rental companies at the best prices.