Custo Barcelona
Custo Barcelona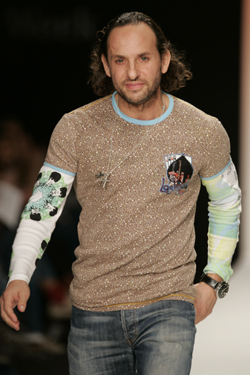 The Custo Barcelona fashion empire was created in the 1980s after the brothers Custo (pictured) and David Dalmau (born in Lleida Catalonia) went on a round-the-world motorcycle trip.
Throughout their journey they discovered not only new landscapes but also the most diverse manifestations of art, culture and philosophy.
One of the most surprising things they encountered was the Californian lifestyle, expressed in the look of the surfers living in the southern part of the state, as well as the traditional psychedelic in the north. They were also impressed by the colorful and innovative clothing fashion they found there, and particularly a style of t-shirt that did not exist in Spain at that time.
That was the beginning of the story: Custo-Barcelona has been producing this exceptional line of fashion for 20 years, combining the best quality screen-printing with textiles and designs that are superbly original. Since its introduction to the United States, the demand for Custo-Barcelona has skyrocketed! It has become a favorite in Hollywood featured on "Friends" and MTV.
It has been worn on the big screen by such stars as Julia Roberts in "Runaway Bride" and Natalie Portman in "Anywhere But Here." In addition, musicians such as: The Dixie Chicks, Sarah McLachlan and LeAnn Rimes have been regularly spotted in Custo.
Unique and innovative, Custo-Barcelona aspires to make women feel truly special in what they wear. Custo-Barcelona leads the way to a new fashion frontier; they truly stand out with an individual voice that has yet to be equaled.
Today:
The brothers continue to expand their horizons, having recently expanded to include handbag and denim lines. The Custo Barcelona line is available in no less than 30 countries, enjoying a particularly strong presence in Europe and Australia. Custo now has some 3000 points of sale worldwide. The line has had incredible success, with the international market accounting for almost 85% of company sales. It is rated as a top level designer brand, award-winning and internationally coveted, and with this in mind the retail prices are actually extremely reasonable
Where to find Custo Barcelona in Barcelona:

Use Barcelona City map to locate a shop.
Flagship store:

Centre Comercial L´Illa Diagonal
Diagonal, 557
08029 Barcelona
e-mail Address:
custo-illa@custo-barcelona.com
Plaça del Pi, 2
08002 barcelona
custo-pi@custo-barcelona.com
00 34 93 304 27 53
Plaça de le Olles, 7
08003
Barcelona
custo-olles@custo-barcelona.com
00 34 93 268 78 93
Rodriguez Arias, 12
48008 Barcelona
00 34 94 415 69 48
custo-bilbao@custo-barcelona.com
C/ La Rambla, 109
08002 Barcelona
00 34 93 481 39 30
custo-rambla@custo-barcelona.com
Ferran, 36
08002 Barcelona
00 34 93 342 66 98
custo-ferran@custo-barcelona.com
Custo Barcelona
Address :
Diagonal, 557
Zip code :
08029
City :
Barcelona - Spain
Area :
Les Corts
Email :
custo-illa
SPAMFILTER
@custo-barcelona.com
Website :
Custo Barcelona
Opening hours :
from 9am to 9 pm
Phone :
00 34 93 322 26 62
Metro/Bus :
Bus: 7, 30, 33, 34, 63, 66, 67, 78

Your comments : Custo Barcelona
Hotels in Barcelona

Find best hotels in Barcelona: accommodation in City Centre & Ramblas, selection of recommended hotels or discover best hotels by the sea front!
Vacation Apartments Barcelona

Looking for a cheaper and more familiar way to stay in Barcelona?
We have a whole range of apartments for rent from 3 days.