Barcelona chip
Barcelona chip
What is a Barcelona chip??
Well... If you are involved in computer you should already know that "barcelona" was the codename of a very recent AMD microprocessor:
the AMD K10 is AMD's latest microprocessor architecture. Though there were once reports that the K10 had been cancelled, the first third-generation Opteron products for servers were launched on September 10, 2007, with the Phenom processors for desktops following and launching on November 11, 2007 as the immediate successors to the AMD K8 series of processors (Athlon 64, Opteron, 64-bit Sempron).
For specialists here Barcelona die shot: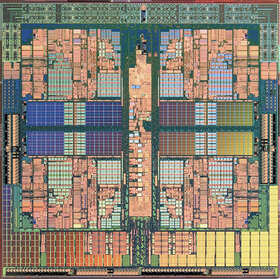 Others codenames are used by AMD for its microprocessors or projects, like : "Budapest".
The next one are to be " Fusion", "Bobcat" and "Bulldozer"... But it's another story...
More on "Barcelona chip" ...
Your comments : barcelona chip
Hotels in Barcelona Centre

Our selection of Best Hotels in Barcelona's city centre.
Some recommendations of the hotels in the city centre that we believe give better ratio of price/quality.
Vacation Apartments Barcelona

Looking for a cheaper and more familiar way to stay in Barcelona?
We have a whole range of apartments for rent from 3 days.