Declivelan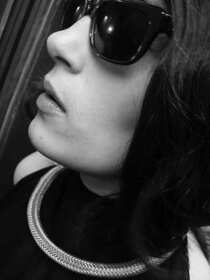 Into the deepest dark heart of the Barcelona's neighborhood "El Born", as if it was such an adventure where we walk into a fantastic Tim Burton's style hood, we find unexpected little treasures: we have arrived to Declivelan.
Declivelan is an artesian space, studio and shop, from two local artists: Pablo Martínez with its clothing brand "No Comprendo", and "Nicotine", a jewelry brand under the imaginary and responsibility of a yet known character in the Barcelona's art scene, Alberto Gomez (Totxa).
This artist originally from Basque Country, works with all kind of products related with the contemporary jewelry (necklaces, bracelets, in-ox iron rings, ...) but its specialty doesn't base in the product, comes from the "nonorthodox" design and chosen raw materials which he works with, closer to the industrial universe than the traditional jewelry field. Innovating style pieces created from novel raw materials worked with actual technologies (laser cut, TORN, machine process, ...) He even dares with the recycling of old telephone cables!
The star product from "Nicotine" is it's new rings collection "2´3" and prices are around 50-60 € in the shop, but not only there you may find these pieces. "Nicotine" has been showed into the Pasarela Circuit V, has been distributed al around the country, Switzerland, The Netherlands, United Kingdom, France, Sweden, Italy and Portugal.
If you ever pass by the Born, don't let you miss the chance, it's a really original product.
Declivelan
Address :
C/ Grunyí, 6
Zip code :
08003
City :
Barcelona - Spain
Area :
El Born
Email :
nicotine
SPAMFILTER
@nicotineordie.com
Website :
www.nicotineordie.com
Opening hours :
Monday to Saturday from 10am to 2pm and from 5pm to 8pm
Phone :
93 310 24 84
Your comments : Declivelan
Hotels in Barcelona

Find best hotels in Barcelona: accommodation in City Centre & Ramblas, selection of recommended hotels or discover best hotels by the sea front!
Vacation Apartments Barcelona

Looking for a cheaper and more familiar way to stay in Barcelona?
We have a whole range of apartments for rent from 3 days.