Princesa 23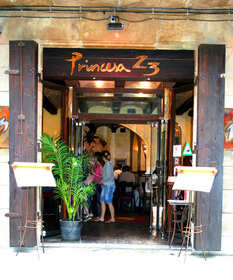 What makes Princesa 23 special is its international clientele and its cuisine that is especially created to serve the needs of a very broad range of tastes.
The tapas menu appeals to both local and international taste buds, as Princesa 23 serves tapas dishes that are primarily created with the nature of the customer in mind, making it easy to make the right selection without making any typical travel "faux pas" when ordering in a foreign country.
Their menu offers a wide variety ranging from Nachos, Wraps, Sandwiches and Salads, to our unique "Tapas Menu Del Día" which includes three tapas plates, a drink and coffee or tea (available Monday-Friday from 12:00-5:00).
The influence behind Princesa 23´s menu ranges widely from Spanish, Catalan, English, Mexican, to Moroccan however all of these plates have been carefully made to appeal to an international customer.
Princesa 23
Address :
Princesa, 23
Zip code :
08003
City :
Barcelona - Spain
Area :
Ciutat Vella
Email :
bcnprincesa23
SPAMFILTER
@gmail.com
Website :
Princesa 23 - Barcelona
Opening hours :
Monday to Thursday from 12h to 2.30am / Friday to Saturday from 12h to 3am
Prices :
Around 20€
Phone :
+34 933 190 472
Phone 2 :
Mobile: +34 678 692 777
Metro/Bus :
Metro: L4 Jaume I / Bus: 120
Your comments : Princesa 23
Your favourite restaurants
Hotels in Barcelona

Find best hotels in Barcelona: accommodation in City Centre & Ramblas, selection of recommended hotels or discover best hotels by the sea front!
Vacation Apartments Barcelona

Looking for a cheaper and more familiar way to stay in Barcelona?
We have a whole range of apartments for rent from 3 days.