Jazz Si Club

The Village Vanguard" or "The Blue Note" from New York would we proud to open their doors with the "Guillermo Klein Group", formed by legends as follow, Gorka Benítez, David Xirgu or Jorge Rossy (who recently has left the Brad Mehldaw Trio to concentrate in new projects as this one). First line of international jazz scene. In Barcelona we have the chance to live this live every monday, programmed with no deadline and only for 5€. Where? Jazz Sí Club.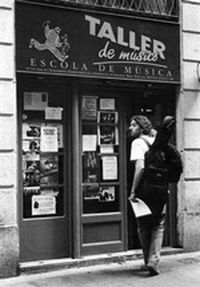 In the deep heart of the neighbourhood el Raval there is a legendary musicians school, el Taller dels músics. Right in front is where since 1992 is the Jazz Sí Club, understood since its beginnings as a prolongation of the school to offer the chance to the students to experience the stage live and with real audience. But the real aim of this place is to promote the young new talented artist, whether are students or not from Taller dels músics, to everyone that has something to tell. And as if it was a reward for the place, the ones that where newcomers one day and now became a reference name to their scene, come back to perform at Jazz Sí Club. This makes possible to see some of the most important international figures in the jazz, rock or flamenco scene, in a privileged context.
The environment that you breathe in the air is quite casual and familiar, as people talk to each other, where the costumers and musicians mix together in a place where as maximum capacity would allow 100 people. The manager is the one that designs the concerts programming, the sound technician and also the master of ceremonies into the kitchen, to offer a Monday to Friday day menu, based on tasty and solid Mediterranean food. Reasonable prices.

Live concerts every evening: Mondays Guillermo Klein Group, Tuesdays jam sessions of pop & rock, Wednesdays "hot jazz" traditional cycle, Thursdays descarga cubana, Fridays flamenco and saturdays rock or jazz jams.
There is so much they have already performed: Barcelona Swing Orquestra, Bloom Daddies, Jordi Bonell, Albert Bover, Manel Camp, Guillermo Céspedes, Agustí Fernández, Carmen Linares, La Locomotora Negra, Mayte Martín, Enrique Morente, Ginesa Ortega, Luís Paniagua, Francesc Pi de la Serra, Miguel Poveda, Rosa Zaragoza..., Eat this New York!
Jazz Si Club
Address :
Requesens, 2
Zip code :
08001
City :
Barcelona - Spain
Area :
El Raval
Website :
www.tallerdemusics.com
Opening hours :
Monday - Sunday
Prices :
6€ - 8€
Phone :
+34 93 329 00 20
Metro/Bus :
Metro: St Antoni (L2) - Bus: 20, 24 y 64
Your comments : Jazz Si Club
Your favourite clubs & discos
Hotels in Barcelona

Find best hotels in Barcelona: accommodation in City Centre & Ramblas, selection of recommended hotels or discover best hotels by the sea front!
Vacation Apartments Barcelona

Looking for a cheaper and more familiar way to stay in Barcelona?
We have a whole range of apartments for rent from 3 days.